ACEE Signs Strategic Cooperation Framework Agreement with CSEP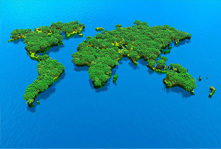 Home
>>ACEE Signs Strategic Cooperation Framework Agreement with CSEP
ACEE Signs Strategic Cooperation Framework Agreement with CSEP
ACEE Signs Strategic Cooperation Framework Agreement with CSEP
In order to promote energy efficiency, emission reductions, protect environment and to mitigate climate change in China, ACEE signed a strategic cooperation framework agreement with Energy Foundation China Sustainable Energy Program (CSEP) in September 2012.

According to the agreement, the two sides will conduct cooperation in the following areas: capacity building, information disclosure and public participation on EIA; establishment of post-EIA evaluation system and mechanism; development of environmental performance report in key sectors such as iron & steel, non-ferrous metals, cement, power, petrochemicals, etc.; research on EIA policies and guidelines on plans and projects in the coal, oil & gas (including shale gas) sectors; research on management system of key pollution sources; and research on environmental quality regulatory modeling system.

In order to ensure smooth communication, the two sides will develop high-level periodical communication mechanism. They will collectively design conferences, workshops, and exchanges programs. Both sides can release information about the cooperation in their respective official website and establish friend links.

The agreement will last three years, after which the two sides can discuss about renewal issue.

The Energy Foundation's Beijing Office (China Sustainable Energy Program, CSEP) is a non-profit organization officially registered under China's Ministry of Civil Affairs with sponsorship from the National Development and Reform Commission. With an emphasis on both national policy and regional implementation, CSEP assists Chinese agencies, experts, and entrepreneurs in solving energy challenges.