Professor Li Zhen from National University of Singapore Conducted Exchange with ACEE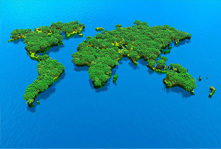 Home
>>Professor Li Zhen from National University of Singapore Conducted Exchange with ACEE
Professor Li Zhen from National University of Singapore Conducted Exchange with ACEE
Professor Li Zhen from National University of Singapore Conducted Exchange with ACEE


ACEE and National University of Singapore (NUS) Signed a MOU on Strategic Cooperation in Oct. 2015. After that, Professor Li Zhen from NUS, accompanied by his Assistant Ms. Huang Li, visited ACEE and carried out on-site investigation in China several times.

From 15-17 March 2016, Professor Li Zhen conducted exchange with ACEE again and met with Director General Cui Shuhong. The two sides exchanged information on green urban development and green growth index. Li Zhen also visited the Environmental Modeling Lab of ACEE and the two sides reached consensus on cooperation and collaboration on big data in the future.

On 16 March, accompanied by ACEE, Li Zhen visited China Three Gorges Corp. and exchanged information on corporate social responsibility, and foreign investment risks.

On 17 March, Li Zhen attended the First Workshop on Ultra Low Emission of Coal-fired Power Plants co-organized by ACEE and Committee of Energy and Environment of Chinese Society of Environmental Sciences.

The series of visits and exchanges provides the chance for ACEE and NUS to explore future cooperation opportunities and lays the foundation for co-organizing a flagship forum later this year.