CEO of Taiwan Environmental Sustainable Development Foundation Visits ACEE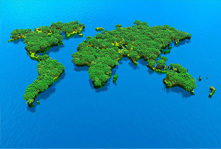 Home
>>CEO of Taiwan Environmental Sustainable Development Foundation Visits ACEE
CEO of Taiwan Environmental Sustainable Development Foundation Visits ACEE
CEO of Taiwan Environmental Sustainable Development Foundation Visits ACEE

Invited by ACEE,Mr. Hong Zhaojia, CEO of Taiwan Environmental Sustainable Development Foundation, visited ACEE on Feb. 4th ,2016 and delivered a lecture on risk management of Chemicals. Vice-Director General Liang Peng met with him and facilitated the lecture.

By case of Tianjin Port explosion, Mr. Hong introduced Taiwan experience in the distribution of chemical industry, the reasons for chemical explosion, post-explosion waste treatment and site remediation measures, emergency treatment principles for hazardous wastes, and future chemical management trend. He also introduced global chemical distribution and its impact, global chemical usage, and 2012 UN outlook on global chemicals.

By means of the lecture, the participants get a deeper understanding of the global chemical risk management, emergency treatment of hazardous wastes, and risk evaluation of hazardous chemicals.