President and Founder of Environmental Governance Institute International Visits ACEE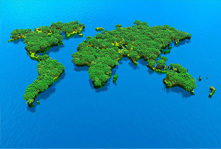 Home
>>President and Founder of Environmental Governance Institute International Visits ACEE
President and Founder of Environmental Governance Institute International Visits ACEE
President and Founder of Environmental Governance Institute International Cheryl Wasserman Visits ACEE

Invited by ACEE, Ms. Cheryl Wasserman, President and Founder of Environmental Governance Institute International, visited ACEE and exchanged views with Director General Cui Shuhong on potential cooperation opportunities.

During a meeting with ACEE employees, Ms. Cheryl Wasserman introduced the main content of American environmental licensing system, licensing procedure and methods, and the experience of other developing countries in the establishing and implementing the system. Participants from ACEE had a heated discussion with her on its integration with EIA system.

After the meeting, Ms. Cheryl Wasserman visited ACEE's Lab of Environmental Modeling.