First International Workshop on Integration of EIA and Environmental Licensing System Kicks off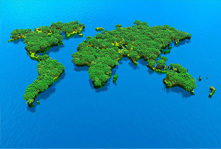 Home
>>First International Workshop on Integration of EIA and Environmental Licensing System Kicks off
First International Workshop on Integration of EIA and Environmental Licensing System Kicks off
First International Workshop on Integration of EIA and Environmental Licensing System Kicks off

In order to push forward the environmental management transition by connecting or integrating EIA system and environmental license, ACEE organized the first international workshop on integrating EIA and environmental license on Nov. 30th,2015. Five foreign experts were invited to the workshop including Ms. Ursula Becker, project director from GIZ, Mr. Michael Suhr from German National Bureau of Environment, and Mr. Georg Bohm, expert from Dusseldorf city, Germany.

During the workshop, the German experts introduced German EIA and environmental licensing system in terms of the main elements, key principles, general structure, main contents, licensing procedure and methods, industrial emission directive/best available technology, emission threshold, and the monitoring and implementation of the system. ACEE representative introduced the general situations of China's EIA system and the research progress made by ACEE on environmental license. The participants had a heated discussion on how to integrate the two systems later on.

The workshop is a start for the exchange and cooperation with GIZ. In the future, ACEE plans to carry out more information exchange with GIZ on SEA, CSR and public participation.