Professor Li Zhen from National University of Singapore Visits ACEE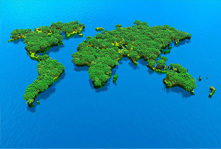 Home
>>Professor Li Zhen from National University of Singapore Visits ACEE
Professor Li Zhen from National University of Singapore Visits ACEE
Professor Li Zhen from National University of Singapore Visits ACEE

Director General Cui Shuhong met with visiting professor Li Zhen from Business School of National University of Singapore on Dec. 8, 2015.

The two sides exchanged views on the policy framework of environmental responsibility for "Belt and Road Initiative", SEA of "Belt and Road Initiative", air quality control, energy structural adjustment for green development and the economic impact of environmental policies, etc. in order to seek common interest for next step cooperation.

After the meeting, professor Li visited Shandong province where he met with officials and experts from Shandong Environmental Protection Department and exchanged opinions with them on the effectiveness of water pollution control and the Action Plan of Air Pollution Control. He also visited some representative environmental pollution control enterprises later on.