Workshop on Environmental Risk Control of "Belt and Road Initiative" Kicks off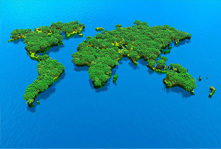 Home
>>Workshop on Environmental Risk Control of "Belt and Road Initiative" Kicks off
Workshop on Environmental Risk Control of "Belt and Road Initiative" Kicks off
Workshop on Environmental Risk Control of "Belt and Road Initiative" Kicks off


ACEE organized the workshop on environmental risk control of "Belt and Road Initiative" in Beijing on July 22nd 2015. Representatives of EIA Department of MEP, International Cooperation Department of MEP, Chinese Academy for Environmental Planning, South China Institute of Environmental Research, China-ASEAN Environmental Protection Center, Beijing Normal University, Nankai University, and Hehai University attended the workshop.

ACEE proposed several environmental risk control research projects for key regions of "Belt and Road Initiative". Preparation work for the projects was introduced during the workshop and heated discussions were held about the general design of the projects, expected results, information platform establishment, composition of a taskforce, and a phased working plan.

Deputy Director General of International Department of MEP Song Xiaozhi pointed out that environmental protection is essential for the implementation of "Belt and Road Initiative". The focus should be on key areas of key regions of key countries. Both a phased long-term plan and a series of targeted and feasible early results were needed. Deputy Director General of EIA Department of MEP Mou Guangfeng said as the political environment of"Belt and Road Initiative"covered countries are sensitive and the ecological environment are fragile, in-depth analysis of environmental problems should be carried out. ACEE Director General Cui Shuhong echoed their opinions, saying that as ACEE's participation in the environmental protection work of "Belt and Road Initiative"are line with ACEE's long-term development plans, it will give full technical support to the International Department of MEP.

Consensus were reached on the following areas: first, it is made clear that the purpose of the projects are to support environmental management of "Green Silk Road" construction; second, the projects include environmental and social policy framework design, SEA of Key regions, environmental risks scanning for foreign investment projects and development of environmental and social management tools, and the establishment of a database; third, such groups as specialists group, working group or international specialists collation spearheaded by ACEE will be formed as needed to collect relevant information and provide statistical foundation.