Professor Li Zhen from National University of Singapore Visits ACEE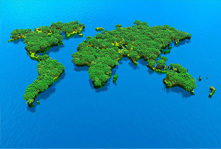 Home
>>Professor Li Zhen from National University of Singapore Visits ACEE
Professor Li Zhen from National University of Singapore Visits ACEE
Professor Li Zhen from National University of Singapore Visits ACEE

ACEE Director General Cui Shuhong met with visiting professor Li Zhen from National University of Singapore on July 10, 2015. The two sides exchanged views on future cooperation and reached preliminary agreement.

Director Cui warmly welcomed professor Li's visit and suggested that the two sides make use of respective advantages to carry out joint research and training on such areas as analyzing pollution sources, predicating the environmental impacts and promoting quantitative management of pollutants with big data analysis.

The two sides reached consensus on further strengthening cooperation, enriching cooperative contents and raising the cooperation level. It was agreed that a strategic framework agreement would be signed on such areas as the pollutant inventory, corporate internalization of environmental cost, and CSR of enterprises investing abroad.