EPA Expert Gives Presentation on U.S. Air Permitting Programs in ACEE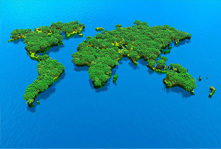 Home
>>EPA Expert Gives Presentation on U.S. Air Permitting Programs in ACEE
EPA Expert Gives Presentation on U.S. Air Permitting Programs in ACEE
EPA Expert Gives Presentation on U.S. Air Permitting Programs in ACEE

Invited by ACEE, Mr. Dale Evarts, from Office of Air Quality Planning & Standards, U.S. EPA, visited ACEE on 26 June 2015, and gave a presentation titled "Air Permitting Programs – Essential for Improving Air Quality in the U.S.". Ms. Conway Irwin, Environmental Affairs Specialist from U.S. Embassy in Beijing and representatives from RTI accompanied him. ACEE employees attended the event.

During the presentation, Mr. Dale Evarts introduced the regulations, basic requirements, application procedure, public participation, litigation and implementation situations of U.S. pre-construction and title V air permitting programs. Heated discussions followed among the participants regarding the issuance authority of the permits, the differences between permitting programs and EIA system, the varieties of permits and the targeted pollutants. It was agreed that a workshop will be held by the two sides on permitting programs and their application.

Mr. Dale Evarts joined the US EPA in 1988 and is currently the US Secretariat to the Working Group for the China-EPA Clean Air and Energy Strategy. For over a decade, Mr. Evarts has been part of a team of EPA experts working with China to address air pollution and climate change.