Air Science Professor Kenneth A. Rahn Visits ACEE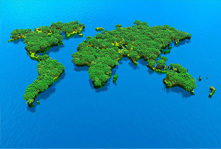 Home
>>Air Science Professor Kenneth A. Rahn Visits ACEE
Air Science Professor Kenneth A. Rahn Visits ACEE
U.S. Air Science Professor Kenneth A. Rahn Visits ACEE


U.S. air science professor Kenneth A. Rahn visited ACEE on May 6, 2015 and exchanged information with ACEE on air pollution control. Representatives from China Environmental Monitoring Station and Environmental Development Center of MEP also joined in the exchanges.

EIA Numerical Modeling Lab introduced the achievements made by ACEE in emission inventory, air quality modeling, and data mining. Professor Kenneth commended the achievements and raised some suggestions as well.

In the afternoon, professor Kenneth delivered a lecture on How many air-quality monitoring stations does China really need. Using air quality monitoring and meteorological data from Beijing, Tianjian and Hebei Province, he illustrated the distribution and diffusion features of air pollutants in North China, and raised several suggestions on improving the current air quality monitoring in China. Heated discussion about similarities and differences of air quality monitoring between China and the U.S. followed the lecture.