Seminar on Thermal Power Environmental Protection 2015 Kicks off in Beijing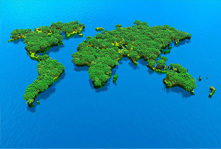 Home
>>Seminar on Thermal Power Environmental Protection 2015 Kicks off in Beijing
Seminar on Thermal Power Environmental Protection 2015 Kicks off in Beijing
Seminar on Thermal Power Environmental Protection 2015 Kicks off in Beijing

ACEE organized a seminar on thermal power environmental protection in Beijing on 31 March 2015. Over 60 representatives from MEP, major power plants, thermal power research institutes and environmental consultancies were invited to the seminar.

During the seminar, ACEE introduced the progress with the research project "Implementation Evaluation of Emission Standards on Air Pollutants of Thermal Power Plants" and received positive feedback from the representatives. Another topic covered by the seminar is the current situations and future tasks facing thermal power project EIA under the context of EIA system reform and environmental management transformation in China.

After heated discussion, the seminar reached the following consensus: first, the research project has great significance. As the first standards implementation evaluation project, the research will promote the guiding role of standards. Second, measures on assisting the downward delegation of thermal power project EIA approval authority should be formulated and released. Although the delegation of approval authority follows the trend of transferring power to the local government nationwide, proactive measures should be taken to prevent its adverse impact by releasing unified national thermal power project EIA approval principles and criteria. Third, thermal power environmental protection coalition should be established. Based on the existing thermal power environmental protection center, the coalition should establish a strategic cooperation framework and make concerted efforts in tackling difficulties and hot issues in order to guide the orderly and sustainable development of the thermal power sector.