Workshop on Sustainable Development of Hydropower in Southwest China Held in ACEE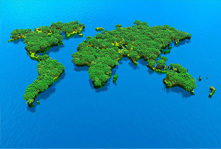 Home
>>Workshop on Sustainable Development of Hydropower in Southwest China Held in ACEE
Workshop on Sustainable Development of Hydropower in Southwest China Held in ACEE
Workshop on Sustainable Development of Hydropower in Southwest China Held in ACEE

ACEE organized a workshop on sustainable development of hydropower in Southwest China on 11 Feb. 2015. Representatives from Executive Office of Three Gorges Project Construction Committee under the State Council, China Electricity Council, China Renewable Energy Engineering Institute, State Grid Corp. State Grid Energy Research Institute, China Three Gorges Corp. were invited to the workshop.

The topics covered at the workshop include current status of hydropower construction in Southwest China, the construction and utility of grid and outbound electricity transmission, and existing problems with the electricity supply, transmission and distribution. It was pointed out that some spill electricity was abandoned because of the rich water resources in that region, slow growth of electricity demand, delayed reform of electricity production system, unparalleled planning between electricity source and grid, and improper distribution of regional interest. If hydropower development sequence and electricity transmission does not gain enough attention, the amount of the abandoned electricity will further increase to the detriment of emission reduction, energy saving and the realization of development strategy for West China.

It was stressed at the workshop that hydropower development was indispensable in China due to the natural endowment of resources, environmental situations and emission reduction pressure. The following suggestions were raised at the workshop: first, to further deepen the reform of electricity production system and electricity pricing system to balance supply and demand; second, to optimize grid planning by strengthening regional coordination and large scale planning; third, to coordinate the construction progress of hydropower stations and grid. Only by means of reform and innovation, can we achieve sustainable development of hydropower.