Midterm Evaluation Meeting for UNDP Project on Emission Standards of Biomass Industry Kicks off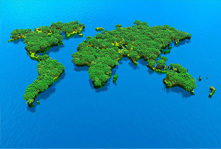 Home
>>Midterm Evaluation Meeting for UNDP Project on Emission Standards of Biomass Industry Kicks off
Midterm Evaluation Meeting for UNDP Project on Emission Standards of Biomass Industry Kicks off
Midterm Evaluation Meeting for UNDP Project on Emission Standards of Biomass-fuelled Industrial Boilers/Furnaces Kicks off in Beijing


As the executing agency for the UNDP project on defining emission standards of biomass-fuelled industrial boilers/furnaces, ACEE organized a midterm project evaluation meeting in Beijing on 17 March, 2015. Relevant experts and representatives from the project implementing agencies such as China Renewable Energy Association, Energy Institute of China Development and Reform Commission, Beijing Forestry University attended the meeting. ACEE Deputy Chief Engineer Ren Jingming chaired the meeting.

During the meeting, the three representatives of the project implementing agencies introduced their part of the project results respectively: the current status of biomass-fuelled industry in China, the incentive policies on promoting biomass fuels replacing fossil fuels, and the application mode of biomass fuels replacing fossil fuels. They elaborated on the work done, the midterm results that have been made, existing problems and future plans. The presenting experts highly commended the project progress and gave some suggestions on the next-step research content and methodology.

The meeting deepened the understanding of biomass fuels industry and will play a positive role in promoting the application of the project.