ACEE & ADB Hold Meeting on Environmental Livability Index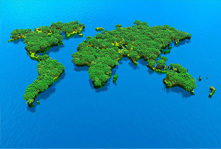 Home
>>ACEE & ADB Hold Meeting on Environmental Livability Index
ACEE & ADB Hold Meeting on Environmental Livability Index
ACEE & ADB Hold Meeting on Environmental Livability Index

ACEE and ADB China Resident Mission hold a meeting on environmental livability index in Beijing on 10 Feb. 2015. ADB Urban Development Specialist, Pollution Control Department Official from MEP, and ACEE representatives attended the meeting.

During the meeting, ADB specialist introduced a research result sponsored by ADB—Developing Indicators and Monitoring Systems for Environmentally Livable Cities in the People's Republic of China, and explained in detail the research background, objectives and achievements. She hoped the research on index development could be updated and released on a regular basis. In response, the MEP official introduced their achievements on urban environmental protection and pollution control, another index system in particular.

The meeting laid a solid foundation for future cooperation on urban environmental management among ADB, MEP and ACEE.