Two Pilot Projects on SEA of Significant Economic Policies Pass Completion Review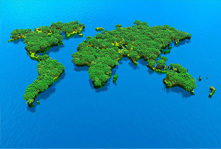 Home
>>Two Pilot Projects on SEA of Significant Economic Policies Pass Completion Review
Two Pilot Projects on SEA of Significant Economic Policies Pass Completion Review
Two Pilot Projects on SEA of Significant Economic Policies Pass Completion Review


On 5 Feb. 2015, the EIA Department of MEP organized a meeting to review the results of two pilot projects on SEA of significant economic policies spearheaded by ACEE. Experts from MEP, China Academy of Sciences, Qinghua University, Fudan University and Beijing Normal University attended the meeting and formed the review panel.

During the meeting, the project teams reported the results of the two pilot projects: SEA of new urbanization policies and SEA of economic transformation policies. The first project predicted the significant environmental problems and the future developing scenario brought about by China's up-coming urbanization, and raised some suggestions on the assessment pattern of "warning plus prevention" and that further assessment of core urbanization policies should be carried out. The second project evaluated the economic and environmental effects of China's economic transformation policies, and proposed some policy suggestions on optimization of economic transformation by environmental protection. After the report, all members of the review panel agreed that the two projects meet the requirements of their proposals and should pass the project completion review.

With the purpose of implementing the newly released Environmental Protection Law, the two projects will promote the development of green, circular and low carbon economy.