US-China Workshop on Environmental Protection in Shale Gas Development Kicks off in Beijing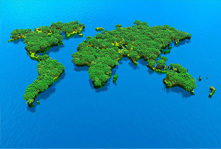 Home
>>US-China Workshop on Environmental Protection in Shale Gas Development Kicks off in Beijing
US-China Workshop on Environmental Protection in Shale Gas Development Kicks off in Beijing
US-China Workshop on Environmental Protection in Shale Gas Development Kicks off in Beijing


On Jan. 30, 2015, ACEE and US-China Energy Cooperation Program (ECP) co-organized the US-China Workshop on Environmental Protection in Shale Gas Development at Landmark Hotel in Beijing. The workshop was supported by US Trade and Development Agency (USTDA), the US Foreign Commercial Service (USFCS), US Department of Energy (DOE) and American National Standards Institute (ANSI). Over 100 representatives from MEP, MEP affiliated agencies/think tanks, local EPBs, well-known international organizations, and more than 20 US& Chinese companies attended the workshop.

Mr. Chang Zhongnong from EIA Department of MEP, Mr. Carl Kress, the Regional Director for East Asia of USTDA, and Mr. Geoff Jackson, the Executive Director of ECP made the opening remarks. Mr. Nicholas Carlson, the Deputy Director of USDOE Beijing office introduced the shale gas progresses and challenges in the US. Mr. Zhang Dawei, Director General of Mineral Resource Reserves Assessment Center of Ministry of Land and Resources introduced the latest shale gas progress and development plan in China. ACEE, PRCEE, CAEP of MEP introduced the current environmental management of shale gas development in China. In the afternoon section, US company representatives from Baker Botts, GE, DOW, Baker Hughes, Aquatech shared the US regulations, technologies and practices of water treatment/recycle during shale gas development. CNPC Chuanqing Drilling Engineering Company and Sinopec Jianghan Oilfield Company introduced the progress of their shale gas sites and water pollution prevention and control practices. The speakers and the attendees had a heated discussion on related topics during the panel discussion. Mr. Liang Peng, the Deputy Director General of ACEE and Val Huston, the Principal Commercial Officer of US Embassy summarized the workshop on behalf of the Chinese and US side respectively.

The workshop provided a good platform for information exchange on environmental protection of shale gas development between China and the U.S. and laid the foundation for future cooperation in this field.